About Prineville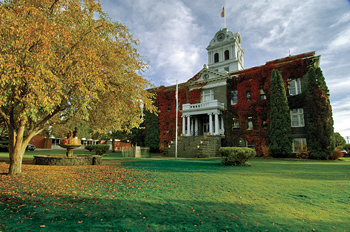 With its roots in timber and ranching, Prineville, Oregon first boomed in 1917 when it built the country's first and only municipally-owned railroad. Today, Prineville is still a highly desirable place to live, thanks to its envied location in the middle of paradise. 
The local economy is fueled by both small businesses and marquee names, including social media giant, Facebook and Apple who both have data centers near Prineville's airport. And downtown Prineville is made for strolling, with welcoming shops, cafés and diners and other local businesses. To learn more about Prineville's robust economic development initiatives.
Central Oregon is known for its outstanding medical community, and Prineville is no exception. 
Prineville is just 36 miles from Bend, 30 miles from Madras and 18 miles from Redmond. The Bend/Redmond Airport, just 18 miles away, offers direct flights to Portland, Seattle, Salt Lake City, Denver, San Francisco, Las Vegas, Los Angeles, Phoenix and Scottsdale, Arizona. 
Prineville's location just off the beaten path means its small town charm endures, making it the hidden gem of Central Oregon and the perfect location for the new homes and homesites in IronHorse.
About Central Oregon
Unfold your map and you will notice that Prineville resides in Central Oregon—and that it's surrounded on all sides by natural wonders, including Crooked River, the Ochoco and Cascade Mountains, Smith Rock, and the Prineville and Ochoco Reservoirs. 
This makes your IronHorse property the perfect base camp for all kinds of outdoor pursuits, including hiking, fly fishing, mountain and road biking, rock climbing, hunting, rodeo, rockhounding, horseback riding and golf. 
The high-desert climate means days are more often sunny than not. And Prineville enjoys milder winters than its neighbors just west, so you'll have easy access to snow sports—snowmobiling, snowshoeing and both Nordic and Alpine skiing—without as much snow shoveling. 
Visit the Central Oregon Visitors Association website for more information on our beautiful area.